Gone are the days when you filled a large bucket with hot water and plunged in. Today's modern bathtubs make the process of bathing much less labor-intensive and a lot more enjoyable!

Bathtubs aren't just for bathing. Usually the largest fixture in the bathroom, people are paying more attention to its looks, design, and ergonomic styling. Today's bathtub is a focal point and a centerpiece.

Bathtubs come in just about every style to fit the decor of your home, from old-fashioned claw-foot reproductions to contemporary bathtubs that feature sleek lines and architectural geometry.
Tub Materials and Shapes
Bathtubs can be made out of a variety of materials, including glass, wood, stone, and even stainless steel. And while white is still a popular choice, designer tubs come in all hues and shades, from the brightest red to translucent glass.

Bathtubs come in all shapes, allowing them to be placed along walls, in corners, or to be freestanding. They also come in all sizes, from four-foot space-saving bathtubs to tubs that are big enough for two. An average bath is 30 to 32 inches wide; anything narrower will feel tight. Deeper tubs enable the water to cover you even if you can't lie down.
Spas and Whirlpool Bathtubs
With our hectic lifestyles, bathtubs are not only seen as a place to wash away the day's grime, they are also seen as a place to wash away the day's worries and cares. Spa and whirlpool baths are not only relaxing, they are often touted for their health benefits. Not only are spa and whirlpool baths wonderful for tired and sore muscles, they are also said to improve blood circulation, stimulate lymphatic drainage, and increase oxygenation to the skin. Top-of-the-line models are equipped with features such as radio and CD players, underwater lights, ultrasound massage, and even aromatherapy!

For more information about bathing alternatives, visit Kohler's bathing product selection guide, American Standard's bathtub catalog page, and our whirlpool tubs overview site.
---
Copyright © Zeducorp.
All rights reserved.

Soaking Tubs and Jetted Tubs - Tub Selection Guide
Related Images
Three Rubber Ducks On A Bathtub Rim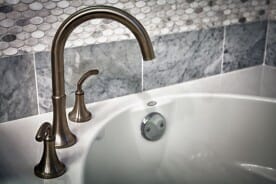 Bathtub Faucet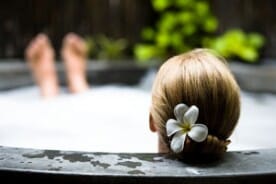 Woman Relaxing In An Outdoor Hot Tub