A shower is a good alternative to a bath, especially if you are looking for a quicker, less labor-intensive way to get clean. Do you ever wonder how your shower reaches that perfect temperature? Well, showers use a mixer system in which a mixer valve blends water from both the hot and cold water supplies until you decide it feels just right.

The simplest and easiest way to install a shower is with a shower module. These are one-piece molded shells made of acrylic or fiberglass that are plumbed into the water supply. Shower modules come in many colors, shapes, and sizes, and some also include tubs. You can influence the design of your shower by picking the appropriate faucets, showerheads, and drains.
A shower enclosure consists of a frame, glass panels, a door, and a base. But today's shower enclosures are no longer just white boxes. Funky shapes, innovative design, and thoughtful styling can make any shower enclosure a showpiece.
For safety reasons, shower enclosure glass should be toughened, and at least 1/16-inch thick. Traditional shower glass is patterned or etched for privacy, while more modern glass is clear, sand-blasted, acid-etched, or tinted gray, green, or blue. There are different types of entry doors depending upon your needs, including sliding doors, bi-fold doors, pivot doors, corner entry doors, and walk-in entry doors.
Shower floors are usually made of acrylic or fireclay ceramic, though you can also find them in wood, glass, stone, and resin composites. They come in several shapes including square, quadrant, pentangle, circle, or contoured.
You can't have a shower without a showerhead! Showerheads descend directly from the ceiling, or on a wall-mounted arm, and allow you to have a hands-free shower experience. Hand-held showers are also good for close-up rinsing and give the bather more flexibility. Showerheads range from the very simple to the more complex, with adjustable spray patterns and massagers.
One of today's biggest bathrooms trends is the shower panel. This panel is a vertical console made up of an array of body jets and showerheads. Some shower panels even come with extra features like music and lighting.
More detailed information about bathroom shower stalls, doors, and fittings can be found at Shower-Stalls.com.
---
Copyright © Zeducorp.
All rights reserved.

Bathroom Showers - Shower Selection Guide
Related Images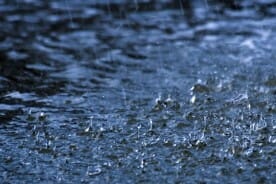 Rain Shower And Water Puddle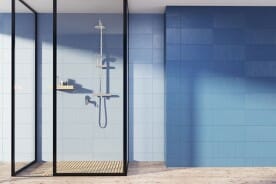 Contemporary Shower Stall